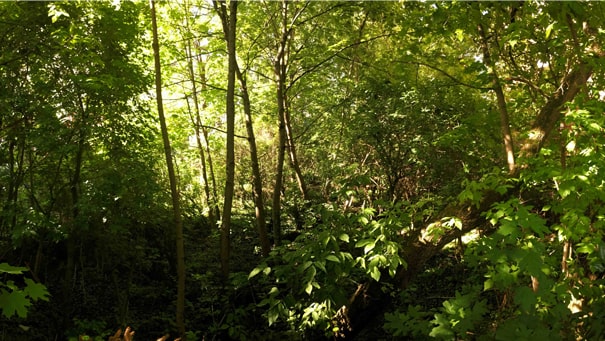 November 03, 2019, 8.00 pm:
»Palace of Justice of the People's Government« at Ballhaus Ost

September 08, 2019
»Parliament of Organisms« in the garden (Osloer Str. 107|108, 13359 Berlin-Wedding)

September 29, 2019
»Day of the Garden Executive« in the garden (Osloer Str. 107|108, 13359 Berlin-Wedding)
15 | 10 Euros
Tickets
>>>Deutsch
Nature goes politics! Starting on the September 08 over 200 species of organisms, living at a site on Osloer Str. 107|108 in Berlin, are granted equal political rights. Beyond Nature (Jenseits der Natur) turns an ecosystem into a democratic system with all inhabitants, from bacteria to vertebrates, as members of the political community. Decisions are taken by the Parliament of Organisms, where 15 human representatives fight for the issues and rights of their represented species. These decisions have real consequences on the ecosystem during the »Day of the Garden Executive« and are questioned in the third part of the procedure: »The Palace of Justice« of the Organisms Republic at Ballhaus Ost. If living beings, politically invisible, unnoticed, unheard, are suddenly being heard, are being treated as individuals with political rights, what happens to our concept of »nature«? How can I represent someone I have trouble communicating with? How do representational politics work anyhow?

Club Real has been realising participatory site-specific projects since 2000. In installations, one-to-one encounters, political role play and participatory urban development projects they invite audiences to join in devising alternative constructs of reality.
Projects by Club Real were realized in Berlin, Vienna and Plovdiv, among others. In Frankfurt/Oder and Słubice Club Real devised practices for collective art production in the project »Folkstheater | Teatr Ludowy« (2015–2017). And in 2018 they edited the book »Participation City Theatre« for the Verlag Theater der Zeit.
In German and English.

by and with Club Real (Marianne Ramsay-Sonneck, Georg Reinhardt, Mathias Lenz, Paz Ponce), species of organisms of the People's Government in the garden and members of parliament in the Parliament of Organisms Audio drama David Lindemann Musical improvisation Silke Lange Project assistance Paulina Schute Ecological collaboration Carolin Geisler

A Club Real production in cooperation with Ballhaus Ost. Supported by the Berlin Senate Department for Culture and Europe, cross-disciplinary funding.