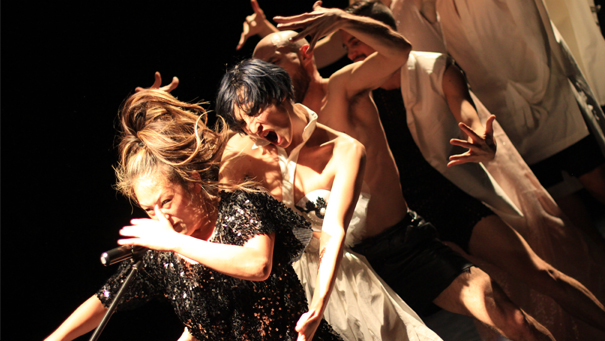 © Benedikt Feldmann
Premiere September 11 2014
September 12 | 13, October 09 | 10 | 11 | 12 2014
September 03 | 04 | 05 | 06 2015
>>>DEUTSCH
Sixteen hands are the protagonists of bodieSLANGuage.
They unite, communicate with each other, create worlds and drift apart.
Mixing contemporary dance, Sign Language and gestures from pop culture and everyday life, three choreographers explore with a group of eight international deaf and hearing performers the possibilities of expression of the hands.
They translate music and sound through the body and Sign Language into physical exploration. Their gestures and facial expressions lead the spectators through a saturated audiovisual journey; a celebration of cultural manifestations, a multilingual landscape, quoting, mixing and transforming cultural codes.
bodieSLANGuage is a production by the Berlin based choreographers duo matanicola (Nicola Mascia & Matan Zamir) and the Sign Language interpreter and performance artist Gal Naor (the progressive wave), who collaborate for the first time in this interdisciplinary dance performance.
with Bráulio Bandeira, Jan Michael Kress, Laura Levita Valyte, Maureen Lopez Lembo (Yaara Dolev), Nicola Mascia, Gal Naor, Jija Sohn, Simo Vassinen (Manuel Perez Torres) Concept, Direction, Choreography Nicola Mascia, Gal Naor, Matan Zamir Soundtrack design Tomer Rosenthal Light design Avi Yona Bueno (Bambi) Audio/visual interaction Safy Etiel Costume design Sasa Kovacevic Technical direction Fabian Bleisch Production direction Annett Hardegen Public relations Nora Gores
A production of Matanicola and the progressive wave in co-production with Theater Freiburg and Ballhaus Ost, Berlin
Funded by the Hauptstadtkulturfonds, Berlin
With the friendly support of Tanzfabrik, Dock 11, Tess-Relay-Dienste, Edelmat and Sniper Berlin