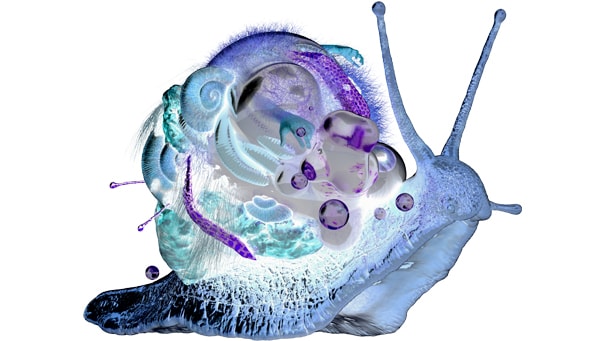 Premiere August 25, 2018
August 26 | 30 | 31, 2018
September 01, 2018
>>>Deutsch
»What keeps me awake at night is the unsolvable riddle of sustainability and eternal life on our planet. Breathing in what others need, breathing out pure poison. But yet I dream. Dissecting bodies, finding plastic trash. Spirals of recycling and slime trails. Rising sea levels. Oceanic feelings. Liquid phantasies. I see foam-born hybrids on toxic beaches.
What is life? What is care? Is common survival on a destroyed planet even possible?«

As of June 2018, the International Union for Conservation of Nature (IUCN) listed 310 extinct species, 117 possibly extinct species, 14 extinct species in the wild, eight extinct subspecies and five extinct subspecies of molluscs in the wild.

»Ok, I wonder – if everything would be fluid, I mean, really everything, would there still be matter? And if there is no matter, would things still matter? If everything would be fluid, would fluidity then be considered stable? Can something that is constantly shifting its shape last forever, is something that is fluid stable in its own way?«

Let's make kin with the last living Great Ramshorn snail and form a cluster of mutual care. Not extracting but providing, forming Sym Bodies out of human humus. Getting rid of the spine, using lungs under water, making skin produce slime. Genetics. Metamorphosis. The future belongs to Children of Compost.

virtuellestheater was founded in 2015 by seven artists living and working in Hamburg and Berlin. virtuellestheater is not only a group name, but also the designation of a certain approach to (performative) art. virtuellestheater creates space for subversive criticism of the present and for cultural agility, opposing the neoliberal imperative of world building. Using non-linear narrative forms, digital media and new technology it creates speculative performance installations, striving for a good life and a better future.
Performance in English.

Direction, Performance Max Gadow, Janne Nora Kummer Choreography, Performance Amarnah Amuludun Music, Performance Magic Island Text, Dramaturgy Sven Björn Popp, Fee Römer Video Sam Aldridge Stage, Costume Marilena Büld Technical Director, Lighting Design Stefan Damnig Assistance Isabelle Wapnitz Production Johanna J. Thomas, Lisanne Grotz
A virtuellestheater production in cooperation with Ballhaus Ost. Funded by Hauptstadtkulturfonds, the Berlin Senate Department for Culture and Europe and the Pankow District Office, Office for Further Education and Culture – Department of Art and Culture.