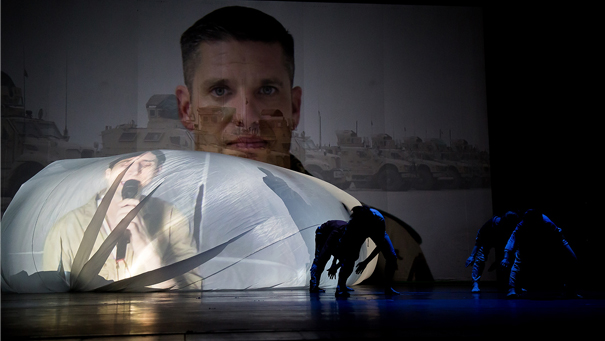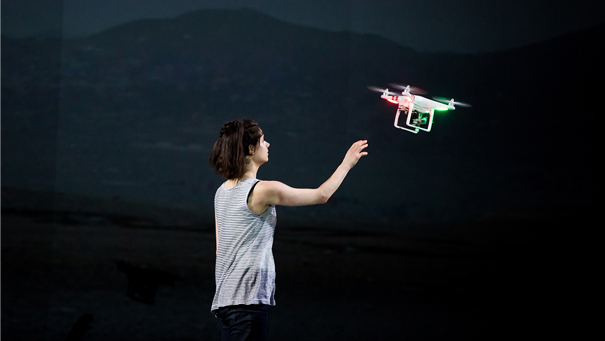 June 14 2017
January 30 | 31 2016


>>>Deutsch
»Everyday we leave the house, we are aware that we may die.«

The costa compagnie conducted research in the Hindu Kush for three weeks at the end of ISAF's mission and spoke with Afghans, as well as with German and American soldiers about their experiences within the region's complex situation.
Conversion translates the multiple voices and contradictions of the material into a powerful performance that blends contemporary dance, research-based theater, soundscapes and multimedia installation to create a new form of the messenger's report, while pursuing questions such as: How did the ISAF-mission affect the situation in Afghanistan? And by which interdisciplinary means can we approach war?
Invited to the Impulse Theater Festival 2016.

The Berlin and Hamburg based costa compagnie was founded by Felix Meyer-Christian as an open collaboration of interdisciplinary working emerging artists. Their latest works combine documentary, performative and choreographic methods and where invited to the Impulse-Festival, the Koerber Studio Junge Regie and other venues and galleries in Germany, Israel, Austria and the United States. The focus of several works has been global transformational processes and the human within. costa compagnie thus conducts interviews and collects audio- and video-footage on-site, such as in Afghanistan, the USA, Israel, Russia, Fukushima / Japan and the Lebanon. All members also work in other contexts and sometimes a production includes 2 or 3 and sometimes up to 15 artists.
Performance in german and english

performance Toni Jessen, Frank Koenen, Akemi Nagao, Jascha Viehstädt, Maria Walser artistic direction / text Felix Meyer-Christian dramaturgy Strawrula Panagiotaki choreography Jascha Viehstädt audio (live) Katharina Kellermann video (live) Miguel Murrieta Vásquez video support Jonas Plümke stage and costume design Lani Tran Duc, Anika Marquardt light / technician Fabian Eichner assistance Nicole Nowak research Afghanistan Stefan Haehnel, Felix Meyer-Christian, Jascha Viehstädt translation Afghanistan Ahmed Nasir Formuli
A Costa Compagnie Production in Cooperation with the Theatre and Orchestra Heidelberg
Funded by the fonds Doppelpass of the German Federal Cultural Foundation