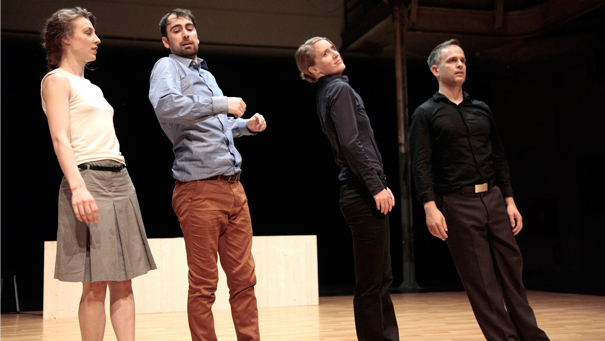 March 05 | 06 2015
>>>DEUTSCH
From what point on is a movement really mine and when does this movement become art?
The law only protects movement phrases, but what about the context or if no one is dancing?
What could be the smallest building block of a movement phrase?
Is a single movement comparable to a single note?
Is a true copy at all possible in dance?
How does one and the same movement differ if performed by different dancers?
And what does music have that we don't have?

Dance!Copy!Right? is based on a concrete copyright trial at the district court Nürnberg/Fürth to which Christoph Winkler was summoned as an expert witness. Taking this court case as its starting point, the production will explore fundamental problems and questions concerning copyright and intellectual property.
performance in german and english

with Chris Daftsios, Katharina Meves, Luke Garwood, Nicola Schössler Concept Christoph Winkler Costume design Bianca Karula Production ehrliche arbeit – freies kulturbüro
A Christoph Winkler and ehrliche arbeit production in co-operation with Sophiensæle Berlin and the Heinrich-Böll foundation
Funded by the city of Berlin
Supported by Phase 7