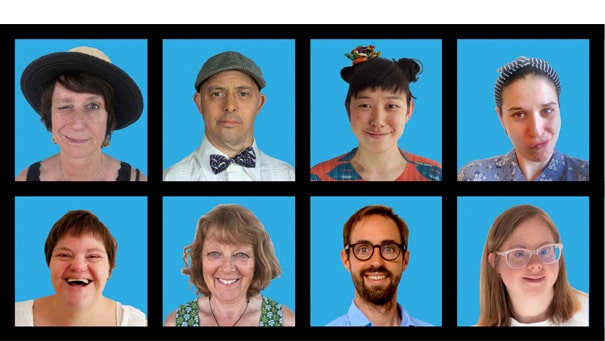 November 11 | 12, 2019
As part of »NO LIMITS – Disability & Performing Arts Festival Berlin 2019«
>>>Deutsch
A humorous documentary play about a colourfully diverse and inclusive family and the troubles of its various members. There is the lovable au pair who is a notorious impostor. A gifted, violin-playing son straining everyone's nerves. An adopted Asian child who always feels excluded. The daughter who, despite all resistance, goes through with her wedding plans. And the two parents, who never get a thank you for all their efforts. They celebrate Christmas together. The most horrible one ever. And just like everyone today, they bicker about all manner of individual grievances, about standstill and change, jealousy, competition, solidarity, support, expectations and disappointments. They are, so to speak, a literal family in the best and most chaotic sense of the word and a mirror image of our society in that.

Mezzanin Theater was founded in 1989 and is an independent theatre group in Graz, Austria, under the artistic direction of Martina Kolbinger-Reiner and Hanni Westphal. Their work aims to convey a variety of contemporary art that deals with social themes and questions as well as artistic working methods and processes.
Running time: 75 min.
In German.

Performance Hanni Westphal, Martina Kolbinger-Reiner, Yukie Koji, Annegret Janisch, Erwin Slepcevic, Karoline Wesiak, Sandra Lipp, Andreas Semlitsch Direction Hanspeter Horner Assistant director Victoria Fux Concept, dramaturgy Hanspeter Horner, Martina Kolbinger-Reiner, Hanni Westphal Choreography Yukie Koji Music Andreas Semlitsch Stage design Christina Weber Costume design Sasa Krhen Technique, video Nina Ortner
A co-production of Mezzanin Theater with NO LIMITS Festival Berlin and »InTaKT« Festival Graz. Supported by the State of Styria, the City of Graz and ÖAR.

NO LIMITS is Germany's biggest and most important festival for Disability & Performing Arts and takes place in Berlin for the ninth time from November 6 to 16, 2019.
For this year's edition Viennese choreographer Michael Turinsky is the first disabled artist to co-curate the festival. And: Most of the invited productions have been created by disabled artists who themselves are taking control of how they want to be represented on stage. They make the festival a laboratory of productive deviations in which oppositions and differences collide, initiate discussions and release energies to become a place of motion, reflection and encounter.
On display are works from over ten countries and from four continents that aesthetically sharpen current questions on art, society and disability and put them up for discussion.
The complete programme and detailed information on NO LIMITS can be found at no-limits-festival.de.

NO LIMITS is an event of Lebenshilfe gGmbH Kunst und Kultur in cooperation with HAU Hebbel am Ufer, Theater Thikwa, Ballhaus Ost, Sophiensæle, Lebenshilfe Landesverband Berlin and nbw Nordberliner Werkgemeinschaft. Funded by Aktion Mensch, Berlin Senate Department for Culture and Europe and Heidehof Foundation.
Media partners: Berliner Behindertenzeitung, Berlin Bühnen, Siegessäule, tanzraumberlin, taz – die tageszeitung, Zitty.
Thanks to Angela Vadori, Anna Mülter, Carrie Sandahl, Georg Kasch, Kate Marsh, Leonie Graf, Lis Marie Diehl, Meine Damen und Herren (Hamburg), Paul Groß, Sara Pinto, PITTSBALLOON GmbH and Qualatex Europe.