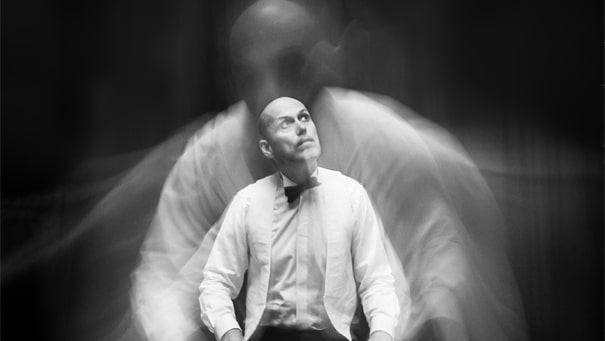 Premiere October 17, 2019
October 18 | 19 | 20, 2019
>>>Deutsch
Back in the day, appearances of ghosts where experienced through phantasmagoria, noises in the radio or midnight glass moving. Today invisible powers appear in the digital sphere.
In the interdisciplinary performance Ghosts the performer, mentalist and magician Manuel Muerte and his team of puppeteers, musicians and media artists updates archaic techniques of necromancy – from shamanic rituals up to the séances of the 19th century high society – to question our relationship with ghosts and their traces in the present.
Mentalities and ideologies that seemingly were overcome force their way back into a society that unconsciously devotes itself to technological progress while dismissing the rational spirit of enlightenment.
Since reason and logic don't stand a chance against perceived truths anymore, Muerte and his team enact a spectacular counterspell in which the audience itself makes contact with ghosts and is being confronted with supernatural phenomena, flying furniture, and suppressed visitations.

Manuel Muerte, born 1968 in Hamburg, is a theatre maker, performer and specialist for illusion and delusion. In his works Muerte uses magic, sorcery and trick art as means to deal with reality.
Running time: 90 min.
In German.

Performance Patrick Folkerts, Manuel Muerte, Gina d'Orio, Veronika Thieme Artistic direction Manuel Muerte Dramaturgy, text Jörn Burmester, Jens Dietrich Music Max Knoth Stage design, film, costumes Mariola Brillowska, Gloria Brillowska Trick technique Patrick Folkerts Puppets Veronika Thieme Construction Christine Ebeling Technical direction Joscha Eckert Production management Olaf Nachtwey Graphic design Valerie Schäfer Photography Simone Scardovelli
A production by Manuel Muerte in cooperation with FFT Düsseldorf and Ballhaus Ost. Funded by the Berlin Senate Department for Culture and Europe.