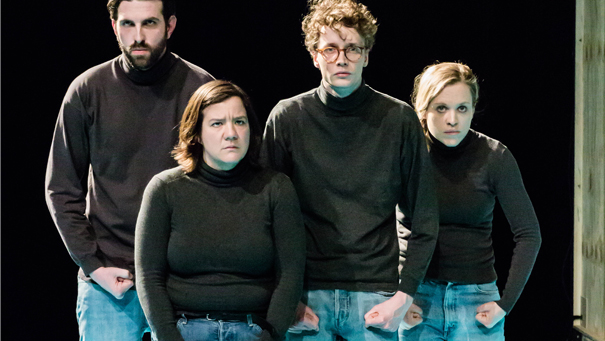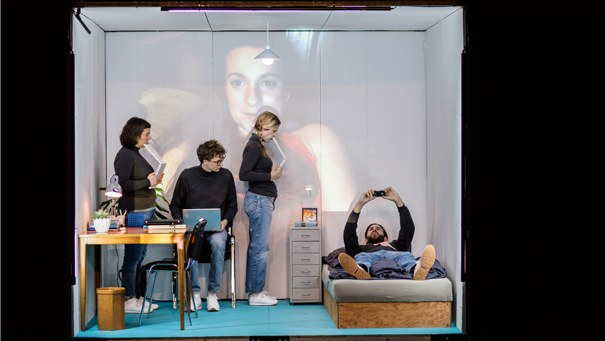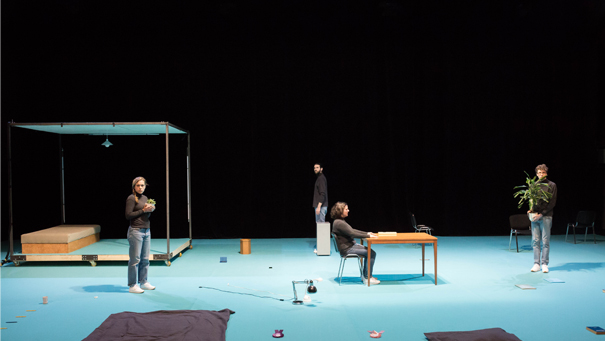 March 03 | 04 | 05, 2017
>>>Deutsch
Homo Digitalis deals with new forms of working in an increasingly digital world and examines the changing everyday work taking place behind screens and in a world of global networking. Technology not only shapes the human, it also dictates his way of living and outgrows him.
 By now, machines and algorithms improve and renew themselves almost autonomously. It is not only us using the programs but rather the programs using us. Now and in the future, digitalization creates a great deal of new forms of life and work. What is the impact on the human, his work and the social areas? How do we conceive the digital workplace? What is ghosting through the net? Questions addressed by four performers in a utopian tracking.
As a means to research Gilliéron / Koch / Wey use the internet platform fiverr.com, purchasing various contents for $5, therefore turning their piece into the commercial centre of a globally interconnected theatre enterprise. On fiverr.com individuals from all over the world sell diverse services for 5 US-Dollars which either define themselves by their uniqueness or/and by being tailor-made for any needs the customer might have. Does the chance for everyone to offer their work online create a new level of freedom? Or – on the contrary – could everyone taking charge of their »Me Incorporated« be a restriction? What am I willing to conduct for $5 – for example over here or in India – and how much am I willing to work for it?
Additionally, the so-called Clickworkers as well as the growing displacement of the human from the (work) environment through automatization of work by algorithms, machines and robots is addressed. It deals with freedom and transparency, community and individuality, automatization and optimization right up to the dissolution of man in the digital world.
Performance Anne Haug, Bärbel Schwarz, Julius Feldmeier, Fabian Stumm Text Ariane Koch Direction Zino Wey stage and costume design Moïra Gilliéron Light design, technical direction Thomas Kohler Sound design Susanne Affolter Production management Franziska Schmidt

A co-produduction of Les Artistes Dépressifs with Kaserne Basel and Theater Winkelwiese Zürich, in cooperation with Ballhaus Ost. Funded by Fachausschuss Tanz & Theater Basel-Stadt & Basel-Landschaft, Pro Helvetia – Schweizer Kulturstiftung, Fondation Nestlé pour l'Art, Ernst Göhner Stiftung, GGG Gesellschaft für das Gute und Gemeinnützige Basel, Futurum Stiftung, Ruth und Paul Wallach Stiftung and Dr. Adolf Streuli-Stiftung.