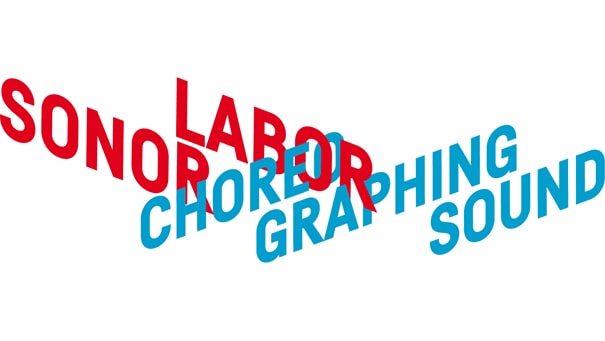 November 30 – December 02, 2018
Evening programs: 12 Euros
Symposium: Free participation
Tickets
November 30
4.30-7.30 pm – Symposium
9.00 pm – Performances: I. SECRET SECURITY. Hanna Hartman composing for/with Hanna Hartman – II. 42 BITS AND THEN SHE LIES. Kaffe Matthews composing for/with Jake Ingram-Dodd, Helka Kaski & Louise Tanoto

December 01
3.00-7.30 pm – Symposium
9.00 pm – Performances: I. WHY DOES MOVING AIR CREATE SOUND. Andrea Neumann composing for/with Fernanda Farah, Lee Méir & Hanna Sibylle Müller – II. THE SOLO PIECE. Matteo Fargion composing for/with Matteo Fargion – DJ Zelda Panda

December 02
2.00-6.30 pm – Symposium
8.00 pm – Performances: I. META MUSIC. Yan Jun composing for/with Takako Suzuki – II. THE WITHDRAWN, TOWARD, THEN. Brandon Labelle composing for/with África Clúa Nieto, María Escobar & Jorge de Hoyos
>>>Deutsch
Composers choreograph sound. Dancers interpret compositions. Labor Sonor : Choreographing Sound explores translation processes between sound and movement, music and body. Contemporary forms of visible music and composed actions emerge through the encounters between extended notions of composing, choreographing and dancing. Ways in which composing practices translate into dance and choreographic concepts translate into music is the focal point of this trans-disciplinary experiment.
After the successful festivals Labor Sonor : Translating Music (2015) and Labor Sonor : Moving Music (2016) Labor Sonor : Choreographing Sound initiates a next test trial.The invited composers – Brandon LaBelle, Matteo Fargion, Hanna Hartman, Yan Jun, Kaffe Matthews, Andrea Neumann – work on different fields such as experimental, improvised music, electronic and electro-acoustic music, sound art and place/space specific and participative art. They work amongst others with dancers Jake Ingram-Dodd, Helka Kaski & Louise Tanoto, Fernanda Farah, Lee Méir & Hanna Sibylle Müller and Takako Suzuki.

The accompanying symposium Labor Discourse : Choreographing Sound will provide insight into artistic translation processes and the formation of the premiered works. It will bring scientists/theorists and artists into dialogue. Focal point is the aesthetic and epistemological potential of such a collaboration and the engagement of the different artistic cultures of knowledge in music and dance.
Performances and symposium in German and English.

Artstic direction Matthias Haenisch, Christian Kesten Scientific direction Matthias Haenisch, Dahlia Borsche Co-conception Andrea Neumann Production management Christina Ertl-Shirley Production assistance Dzeni Krajinovic | Büro Rix, Arthur Rother Media relations and marketing Digital in Berlin Technical management Derek Shirley, Kassian Troyer, Ruth Waldeyer Sound Kassian Troyer, Derek Shirley Sound symposium Eric Wong Light Ruth Waldeyer, Gretchen Blegen Graphic design Carsten Stabenow | milchhof : atelier Translations website and program Stefan Pente Video documentation Uli Decker – ulises films Simultaneous translation symposium Kira Gee | Echoo Konferenz Dolmetschen
A Labor Sonor production in cooperation with Ballhaus Ost. Funded by Hauptstadtkulturfonds. Media partners: neue musikzeitung, Digital in Berlin, Wire, zitty, taz, Exberliner.

laborsonor.de