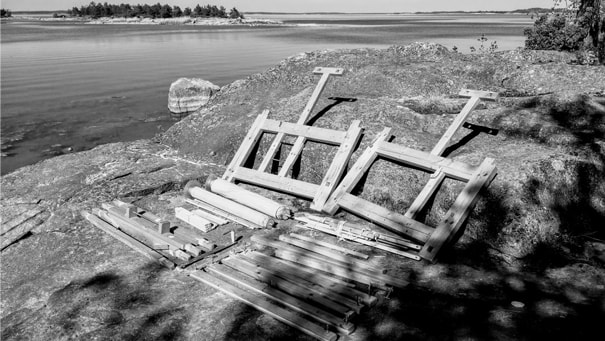 Premiere October 04, 2018
October 05 | 06, 2018
>>>Deutsch
Nya Rampen has devoted the summer to the temporality of the oceans, the rhythm of the loom and the notions of the Mediterranean. The actor Rasmus Slätis has revived the handcraft of his family at the Finnish coast, the dramaturge Johanna-Yasirra Kluhs has travelled north and south of the mediterranean, collecting findings of all sorts, and musician Arno Waschk has been delving into the sounds of weaving.

Odysseus is tired. Stranded on an unknown island, he knows: Purposefulness begets war. Escape and avoid all project-making for just an instant! He ceases using time, letting it pass by. He wants to be a body, like the swaying reed by the shores, rubbing against the wind. While Rumour has it he's lost, Penelope is working hard in order to stop time. She has become manager of an empire of cessation. What the women have fabricated during the day, they deconstruct at night. Warps go: Back, forth. Yes, no. Past, future. Tide, flood.
In 1946, immediately after the horrors of the Second World War, Swedish author Eyvind Johnson takes up the antic saga of the Odyssey in the novel »Strändernas Svall« (»Return to Ithaca«). In Svall, Nya Rampen aim to focalise on the specific moment in which the tale is put on hold. The decade-long moment in which Penelope and Odysseus surrender to the arbitrariness of the gods. For years they manage to extend and enjoy the moment of waiting, of uncertainty, of hesitation. It's neither a moment of promise, nor of idealistic hope. It is a moment of peace.

The Finnish theatre group Nya Rampen, founded by actors Elmer Bäck, Jakob Öhrman and Rasmus Slätis from Helsinki, Finland, has produced and presented theatre in Finland, Sweden, Switzerland and Germany. Since 2010 the performances of Nya Rampen have predominantly been co-productions with the Swedish theatre group Institutet and director Markus Öhrn. This collaboration resulted in the shows Conte d'Amour (2010), We love Africa and Africa loves us (2012) and Bis zum Tod(2014), which toured successfully and internationally.
Johanna-Yasirra Kluhs and Rasmus Slätis worked together with the performance The One and the many, which premiered at Südpol Luzern in May 2016. The One and the many was performed in Copenhagen and Berlin (Ballhaus Ost) in the spring of 2017. Svall is the second collaboration between Kluhs and Slätis.
Performance in German and English.

Idea, concept Johanna-Yasirra Kluhs, Rasmus Slätis Realisation Johanna-Yasirra Kluhs, Rasmus Slätis, Arno Waschk Thanks to Andreas Catjar, Andriana Seecker
A Nya Rampen production in coproduction with Ballhaus Ost and Teatteri Takomo, Helsinki. Funded by Svenska Kulturfonden, Stiftelsen Tre Smeder and Föreningen Konstsamfundet.